Maternity Welfare Center and Day Patient Department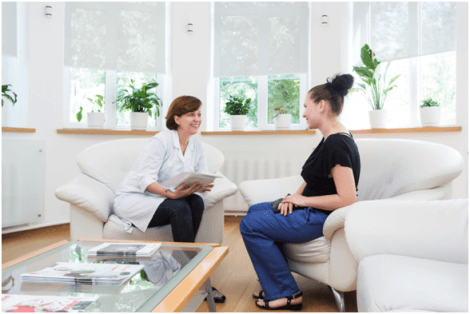 Pregnant women experiencing additional strain require additional attention and supervision. Patients having problems before pregnancy or those who conceived as the result of assisted reproductive technologies (ART) need special care and attendance. Various situations may arise during pregnancy. Such circumstances may require professional assistance of a gynaecologist and other experts.
RMI's Maternity Welfare Center is a modern medical institution meeting the highest industry standards. Our patients may get advice of the following experts:
first-class obstetricians andgynaecologists;
general practitioners, cardiologists and infectious disease specialists;
mammologist, endocrinologist and gynaecological oncologist;
urologists, andrologists;
psychotherapists.
Our patients can check their genetics and get consultations related to hereditary diseases and defects.
State-of-the-art diagnostic and laboratory equipment make the most complex highly accurate studies possible. Patients can undergo the following checks in our clinics:
enzyme immunoassay;
genetic ultrasonography (screening);
cardiotocography (CTG);
semen analysis and ejaculate test;
all types of clinical tests (clinical, biochemical analysis).
Moreover, invasive prenatal diagnostics methods are used in our center:
сhorionic villus sampling;
cordocentesis.
Thorough examination permits collection of comprehensive information regarding health of expectant mothers and their unborn babies. This helps identify various defects and timely treat them.
In addition to follow-up examination and adviсe the center conducts
1. Pre-conceptional preparation:
pregnancy planning;
pregnancy planning in case of recurrent miscarriage, infertility.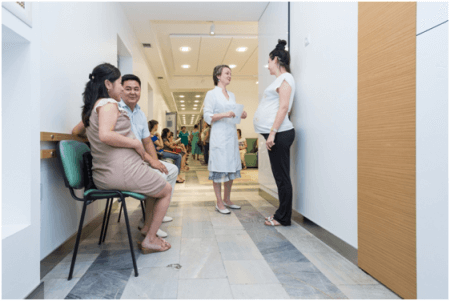 2. Antenatal supervision:
physiological pregnancy management;
pregnancy management after ART;
high risk pregnancies management;
multifetal pregnancy;
fetal loss syndrome.
3. rhesus-negative blood pregnancies management;
4. postpartum supervision:
breast feeding skills;
newborn care;
postpartum hygiene;
aesthetic rehabilitation;
psychoemotional support.
Day Patient Department at RMI's Maternity Welfare Center
There is a fee-based day patient treatment department at the Reproductive Medicine Institution where various procedures are performed. Such procedures require bed rest or supervision by medical personnel over the patient's post-procedure condition.
The following procedures are effected in the department:
physiotherapeutic procedures (gynaecology, urology);
gynaecological and obstetrical procedures;
intramuscular or endovenous medication;
preparation for tests and blood drawing;
consultations by gynaecologists with other experts involvement;
complex examination, etc.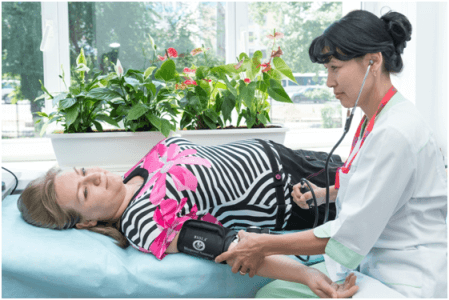 Day Patient Center at Gynaecology Department of RMI offers convenient and cozy wards, modern equipment as well as considerate and thoughtful personnel. Patients may take all necessary procedures while staying in the fee-based day patient center without braking their daily habits. High quality services ensure comfort of our patients and their speedy recovery.
Please contact us to find out the scope of our services and costs.
Pregnancy Management: Parents-to-Be Programs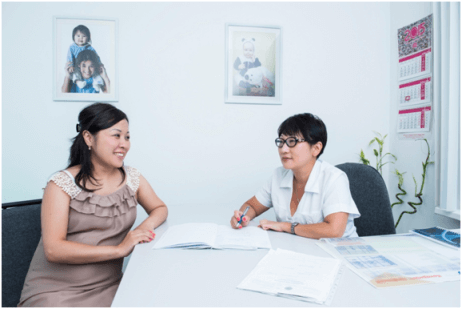 RMI's specialists have developed innovative proprietary parents-to-be programs supporting patients advising and treatment in the day patient treatment center. Each program is intended for a certain category of parents and is targeted at minimization of risks and solution of various issues (physiological, psychological, etc.).
Parental Programs
The program is intended for those who plan to become parents. Such a program include:
consultation of a gynaecologist, urologist and andrologist to identify couple's reproductive health;
examination for inflammatory and sexually transmitted infectious diseases;
gynaecological disorders treatment;
uterine cervix pathology and radiological treatment;
urological disorders management;
infertility treatment;
geneticist's advice;
expert-class ultrasonography.
Pregnancy Management Program
RMI pregnancy management program offered by Maternity Welfare center suggests individual approach to each patient. The program takes into the account the tests results and the pregnant women's health. The program covers the following aspects:
registration and personal medical supervision (obstetrician-gynaecologist) until arrival to the maternity home;
complex examination and, if necessary, advise of various experts;
laboratory diagnostics (clinical and biochemical tests);
<lipatient's and unborn child's health monitoring: fetus ultrasonography, сardiotocography (CTG), gravidogram, Doppler examination of vessels.
Comprehensive scope of perinatal screening services and advice under pregnancy management program.
Birthing classes are conducted in the center in addition to examination and pregnancy management. The best experts in Almaty respond to various questions related to gestation course and preparation for labor.
Birthing Classes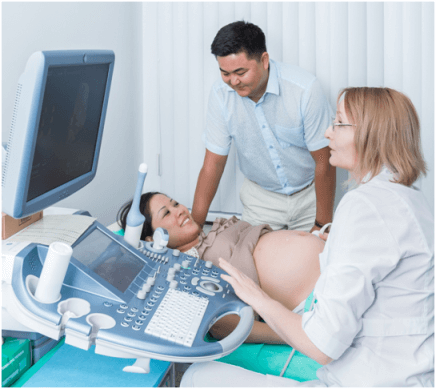 Birthing classes are aimed at physiological and psychological preparation of women to labor. Expert advice and birthing classes help women cope with natural excitement and promote comfortable physical and psychological condition before delivery. The following issues are covered by prenatal training program:
precursors to labor;
delivery phases and the best behavior during them;
labor anaesthetization methods;
methods of relaxation during labor;
breast feeding fundamentals;
newborn care;
postnatal contraception.
RMI's team of experts ensures maximum support to their patients at any pregnancy phase and assists healthy child birth!